Graphic Design
Graphic design work ranging from posters, to layouts, branding, logos and packaging.
This is an E-book I created for Wild Wild Whisk, a backing blog. This E-book focused on pie recipes for Autumn. Without using the typical colors: red, orange, yellow, and brown, I wanted to achieve the feeling of fall in a much more subtle way. I also wanted the feeling of 3x5 recipe cards that I remember my grandma keeping in her little wooden recipe box with all the delicious things she used to make.
Room For Pie: Recipe Page
One example of the recipe page for Room for Pie.
V7 is a line of electronic and accessories. Ingram Micro's private label brand of monitors, bags, cables and everything in between. My main function was to create a cohesive, look through all the products. I've taken a minimalist approach, using the brand colors and logos to create an eye catching, high style brand for everyday B2B products.
This is an example of a feature brochure that have to create for the line of products that we sell at V7. I like to play with the foreground and background of the images to give a sense of depth and feeling and evoke a sense of personality to an otherwise dry publication.
Compositing images into a lifestyle page creates a warmer feeling and brings the viewer into the publication. Typically these are used by Sales to entice a potential client to buy our products. Creating a more pleasing aesthetic gives the client a break from all the hardline facts and features that are presented to them daily.
Content Labs Logo Exploration
Logos Explorations for Content Labs. Content Labs is a branch of Nativo Inc., creating meaning for content to work with the designs for Native Advertising. In the exercise I was exploring the idea of a beaker mixed with a 'C', a pen and a lightbulb and came up with these more fleshed out examples.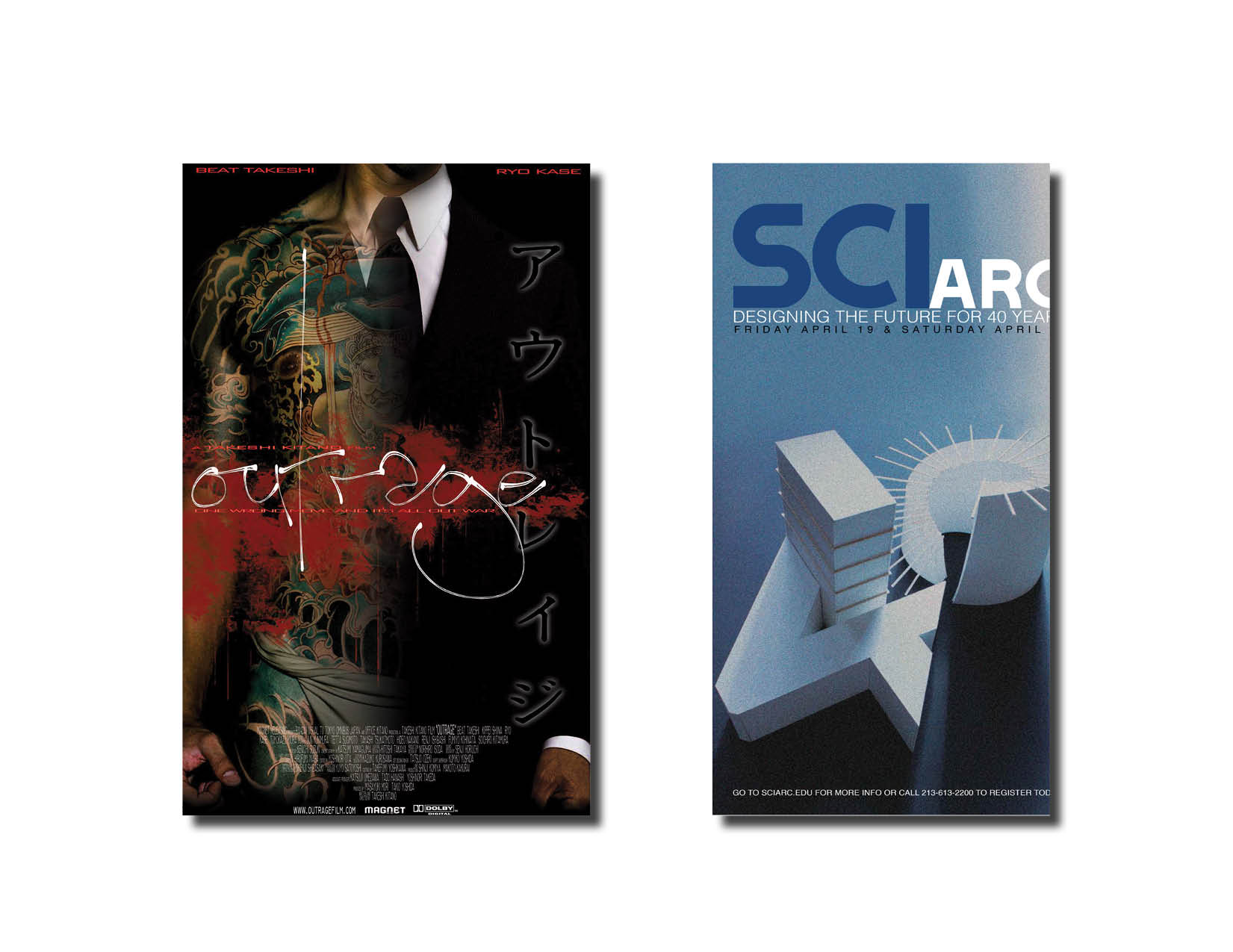 Left: Movie Poster for Outrage. A Japanese action movie starring Beat Takeshi about a Yakuza gangster who finds himself in the center of a clan war. Based on the idea of the duality of the Yakuza gangster.
Right: 40th Anniversary of SCIarc poster. Built Massing models out of museum board and basswood; traditional model building materials and photographed
Branding for Thai Airways
Set includes:
• New Logo
• Stationary
• Flight Vouchers and Envelope
• miscellaneous branded merchandise
New logo in various configurations
Miscellaneous merchandise rebranding with new logo
Rebranded tickets and ticket envelopes
Art in the Streets Billboard
Billboard ads for Art in the Streets art exhibition at the Museum of Contemporary Art in Los Angeles.
Depicts a Banksy grafitti image painting over a grafitti piece being painted by an artist
Home Depot Annual Report. The Cover is made of basswood, hinged with brass hinges and fastened with machine screws, bolts, and washers all of which can be found at Home Depot.
Nothin' But the Blues Logo
Nothin' But the Blues logo for K-Jazz 88.1 FM. Used for T-shirts and Hats that were given away as a fundraiser gift
Nothin' But the Blues Logo
Merchandise comps with the new logo
Max Miller Music Logo for Drummer and Electronic Musician Max Miller. Used for her Album Cover for her song EDIE single.
A logo I created for one of my favorite bands, The Sounds. At the time I was working with geometric shapes and the golden ratio as inspiration.
Logo for the Goorin Bros. Hat shops. Reflecting that old school style that Goorin Bros is known for